Different Types of Forklifts
Forklifts are used to safely handle loads in a warehouse or construction site. There are different types of forklifts to fit a wide range of different applications.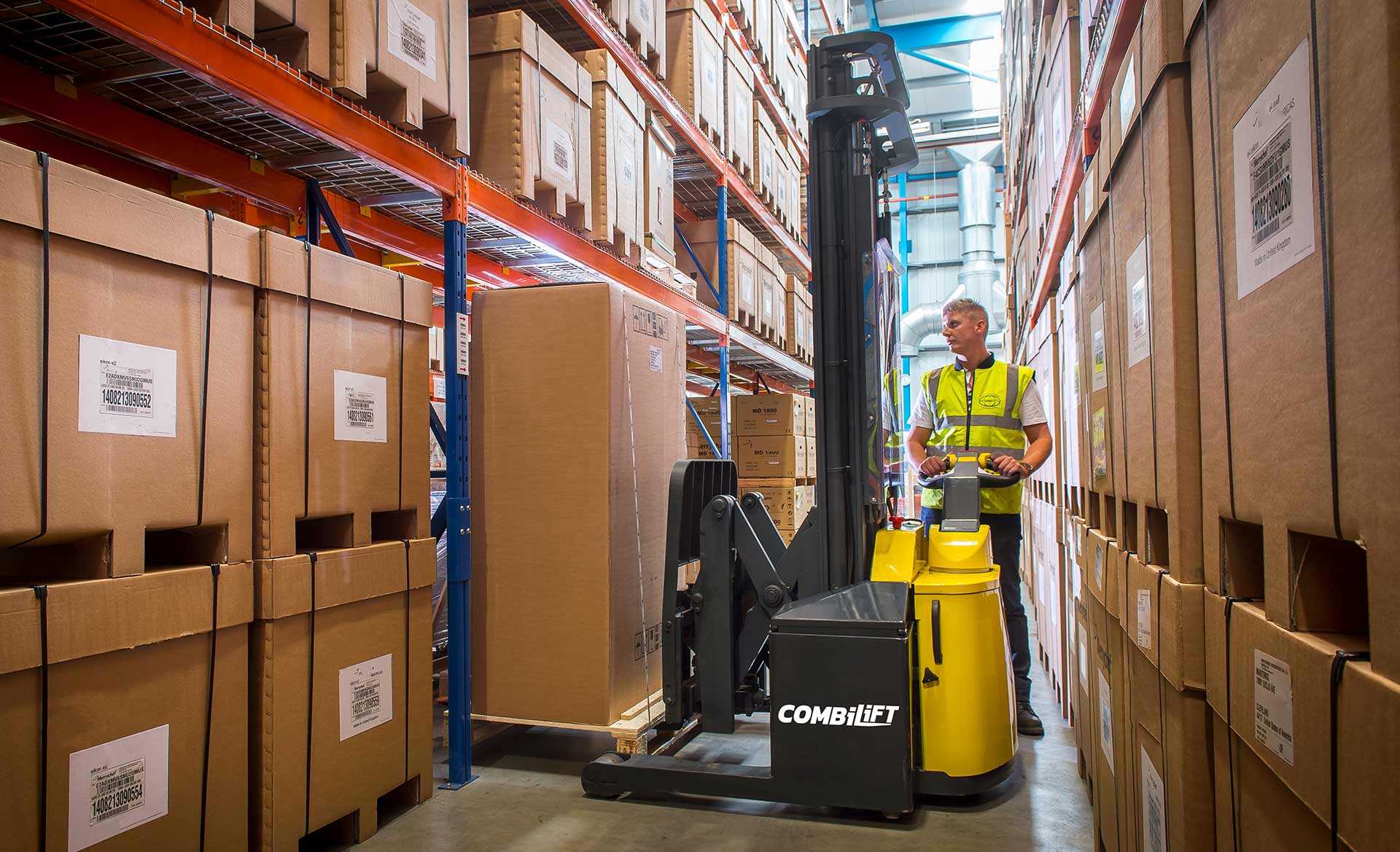 Counterbalance Forklifts
Traditional counterbalance lift trucks come in a wide range of configurations and capacities. Counterbalance lift trucks are the most common type of lift truck but very seldom fit the requirements of applications requiring very high or very narrow aisle storage requirements.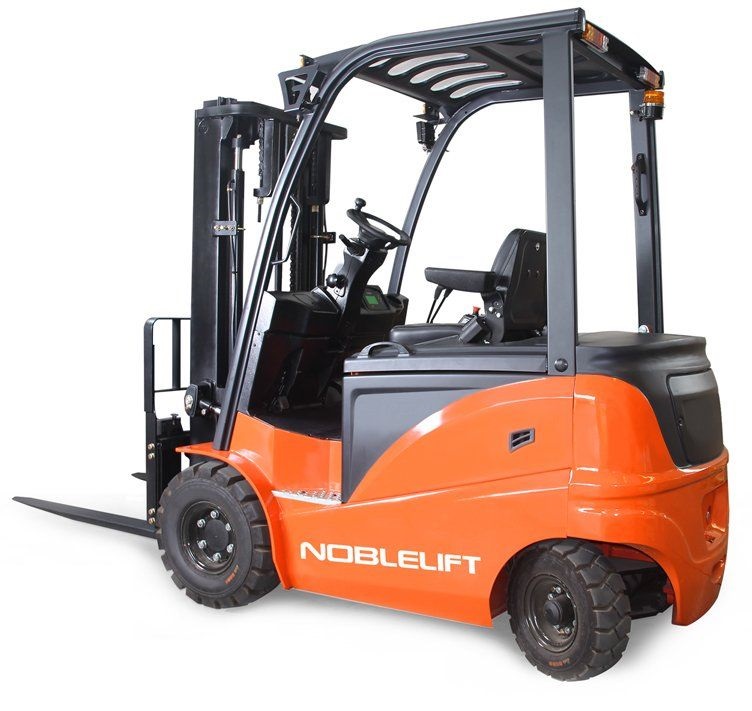 Visit our Noblelift Forklift Page for all our counterbalance forklift offerings!
Narrow Aisle ( VNA ) Forklifts
Narrow Aisle Forklift come in a wide range of configurations!
Reach Trucks
The typical electric stand up reach truck which can be fitted with double reach capability is often fount in warehouse applications. Typically this type of machine take the widest aisle requirements of Narrow aisle forklifts.
Articulated Forklifts
The articulated forklift handles similar load requirements as the traditional reach truck, however does the same in a much tighter aisle as narrow as 6′ 6″. The traditional articulated forklift is a sit down configuration providing less fatigue for an operator over a long day helping to improve safety factor and efficiency.
The Articulated forklift is a fast moving machine and unlike a reach truck provides the user with a narrow aisle forklift and a traditional counterbalance machine in the same unit. Articulated forklifts are similarly priced to reach trucks providing a more cost effective solution for the customer when it comes to storage space required and ergonomic operations.
Turret Trucks
Turret trucks provide for a narrower aisle way than both a reach truck or articulated forklift. The big draw back to this type of machine as its very high cost, requires a guidance system and is much slower than both the reach truck or articulated machine.
Also, unlike the reach truck or articulated forklift, it's captive to the storage system aisleways and cannot be used in any other capacity so in addition to its higher cost, other pieces of material handling equipment are still required in the same operation.
Swing Mast
Swing mast machines also require a narrower aisle than a reach truck or Articulated machine, however have a very high cost and are a very high maintenance machine based on the many operating components of this type of lift truck.
Also, these machines can only access one side of the aisle without coming completely out of the aisle and turning around to access the opposite side. The machine is also very slow. In short, you achieve a slightly narrower aisle if electronically guided with a much higher cost, much higher maintenance cost and lower efficiencies than all other narrow aisle machines.
Sideloader Forklifts
Sideloader forklifts come in Diesel, LPG and electric Power. These machines come in many different configurations for operating outdoor, indoor or both. Also for very high and narrow aisle applications as well.
The traditional use for a sideloader is to handle long and cumbersome loads safely and efficiently while using available space as efficiently as possible. Typically these machines may be found in high lift narrow aisle storage of heavy long materials.
Also, in applications when long loads need to be transferred through narrow passages like doorways without having to double handle or require additional man-power to move these more difficult loads.
Avoiding the movement of long and cumbersome loads overhead, reducing the amount of touches required to move those loads, combined with selective narrow aisle storage capability means these machines maximize the users safety, storage and efficiencies. Visit our sideloder forklift page for more info!
Rough Terrian Forklifts
Rough terrain forklifts are primarily used for unimproved surfaces like construction sights, agricultural applications or other non-typical material handling terrains. These units come in many configurations as well, but the primary two being counterbalance or telehandler, reach boom machine.
The telehandler type machines have many advantageous on construction sights, primarily because of its ability to lift high and with its extended reach capacility. Counterbalance Rough terrain machines are often found in agricultural applications and where a counterbalance forklift is required but the ground conditions not suitable for a traditional counterbalance machine.
Pedestrian ( Walkie ) Forklifts
Pedestrian forklifts often time referred to as walkies are are often used in smaller application and confined spaces to move loads around in smaller applications and confined spaces to move loads around in smaller manufacturing facilities and for narrow aisle pallet storage on a smaller scale.
Recently, the pedestrian market has expanded as more and more manufacturing facilities are trying to separate traditional counterbalance rider trucks and pedestrians in order to increase safety and prevent damage often times can happen when handling loads in smaller confines the increase use of Pedestrian ( Walkie ) type forklifts have brought about new innovations concerning these types of machine.
Benefits of Pedestrian Forklifts
Powered Pallet trucks primarily used in warehouses with capacities around 6,000 lbs can now be found with expanded capacities up to 30,000 lbs for handling large heavy loads in tight areas to previously requiring a large counterbalance forklift often times resulting in wasted space and dangerous operations in close proximity to people.
Traditional walkie reach machines have now been expanded to include walkie reach which can also handle long loads with four directional capability, again with the interest of narrow aisle storage, but more the ability to handle long load in tight areas when people may be present.
Other innovations such as tiller arms allowing the operator to stand to the side of the machine providing full visibility, eliminating any crush point and reducing required aisle space. Pedestrian trucks are now utilized way beyond the traditional uses and best fulfill many applications previously serviced my traditional forklifts.
Straddle Carriers
Straddle carriers are pick and carry machine typically used for long, cumbersome and very heavy loads. These machine are classified as a lift truck as opposed to their cousin, the RTG.
The straddle carrier is very maneuverable and can operate at similar speeds to a forklift and much better at handling heavy loads close to ground level and never over top people, inventory or other machines.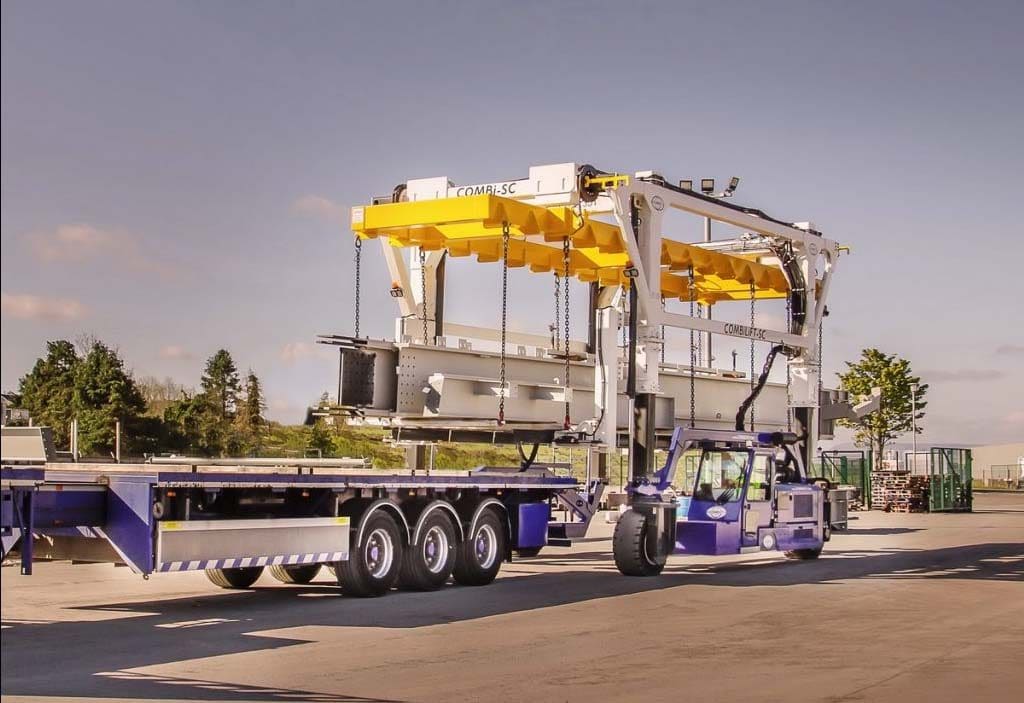 These machines almost always increase speed to move extremely awkward loads while reducing or eliminate any double handling. Often times operation can be done by a single person eliminating the requirement for multiple people and machines previously done to preform the same task.
Straddle carriers can be equipped with telescopic chassis to allow the units to move inside to outside with full loads eliminating double handling cost associated with multiple pieces of equipment required for the same task.
These machines are truly a picture of improved safety, storage and efficiencies. These machines are often found in steel fabrication and container handling operations, as well as any unique requirement where unusually heavy and cumbersome loads are found.
Forklifts At Easy Street
At Easy Street MHE, we have the forklift for your application, weather you're looking for a new, used or rental forklift. Easy Street has readily available stock units and rental fleet. For more detail, fill out our form found on our contact page or call us at 630-682-0021.