Straddle Carrier Container Handler
Combilift Straddle Carrier mobile cranes are the perfect and highly effective solution to handling massive loads and transporting them safely to their destinations. Ideal for distribution and shipping across a large variety of industries with major loads.
COMBI-SC
Perfect for heavy, oversized loads
360 visibility for driver
Stacks in narrow aisles
Telescopic feature outstanding for moving from indoor to outdoor
Custom configurations for each specific application
50,000 lbs – 200,000 lbs Capacity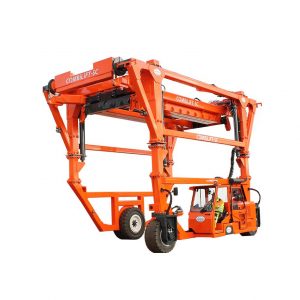 How the Combi Straddle Carrier Works
The Combilift Straddle Carrier moves oversized loads and containers underneath the machine by straddling the load, this allows loading and unloading without the need of crane. The Combi SC is very cost-effective and has great maneuverability, fitting into narrow aisle allowing for more storage space. Its telescopic feature is excellent for moving from inside to outside operations
Safe Handling
The operator has outstanding visibility from the cab because the cabin is centrally located. Also, to easily double or triple stack loads, the straddle carrier has a telescopic option.
Having 3-wheels gives the machine maximum maneuverability and load stability. Carrying the load within the chassis and lower to the ground also provides extra stability and operator safety.
COMBI-MG
Six steering mode mobile gantry
Excellent for all applications with heavy, awkward and extremely long loads, with capacities up to 100 tons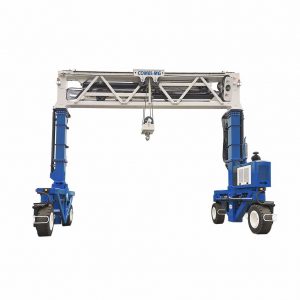 Straddle Carriers at Easy Street JD&S
If you are struggling to move large loads and are looking for an innovative handling solution, our Combilift straddle carriers are exactly what your business needs. Aside from handling large container loads with ease, our carriers are also cost-effective and flexible, able to withstand any conditions and get the job done for you.
Switch to our reliable and fuel-efficient Combilift carriers and discover our many benefits. We promise you will be fully satisfied.
Do you want to see one of these machines in operation? We can provide on-site viewing of the Straddle Carrier machines upon request. Please fill out our form for a free quote today or call us directly at 630-682-0021.