Benefits of Narrow Aisle Forklifts
Our narrow aisle forklift options can be provided with a wide range of lift heights to facilitate the collection of individual items for any given order. Most often, they are used to pick and store inventory. But, each unit has a variety of benefits that improve efficiency and productivity in logistical environments.
Cost effective — These smaller, more compact, narrow aisle forklifts offer better use of warehouse storage. Narrow aisle forklifts are perfect when you need more storage space. Increasing storage capacity by up to 50% you can get extra storage without expanding the existing warehouse footprint. They'll pay for themselves in the long run as you notice a lower per pallet cost as compared to larger lift trucks.
Safety — Using a standard sized forklift in confined environments leaves the operator open to risk of injury and damage to forklift or products . The extremely valuable maneuverability of narrow aisle forklifts decreases risks to both personnel and inventory. They're constructed for outstanding operators visibility resulting in increased safety .
Maneuverability — They're specifically designed to function efficiently in the narrowest of aisles and tight storage spaces
Articulating forks — With articulating forks, the narrow aisle lift truck can drive straight down an aisle without having to turn the truck to pick an order. The articulating forks allow the operator to grab product from both sides of an operating aisle. No special guidance system is required to realize the narrowest aisles.
Below is our narrow aisle equipment:
Aisle Master
Articulated Narrow Aisle Forklift
Can stack in aisles as narrow as 5 ft and lift loads up to 49 ft high
3,300 lbs – 6,000 lbs Capacity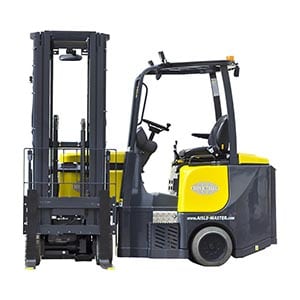 Increase Efficiency
The Aisle-Master series combines the features of multiple machines. You'll get the benefits of a counterbalanced and narrow aisle forklift in the same machine. Also, the Aisle Master can also operate on various floor surfaces, indoor and outdoor. The Aisle Master has over articulation of the mast at 205° as opposed to 180°, providing a great advantage when moving loads in and out of the storage system, especially oversized loads. See below: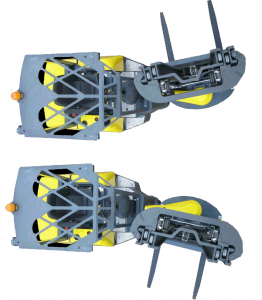 The articulated design offers unbeatable maneuverability and superb visibility for drivers. Requiring as little as 72 inch aisles, these lift trucks can hoist up to 2,500 lbs as high as 50 feet.
Combi Order Picker
Ideal For Long Loads
Reduces wear and tear on Sideloaders by filling small orders from various location within the racking system
Standard 1,000 lbs Capacity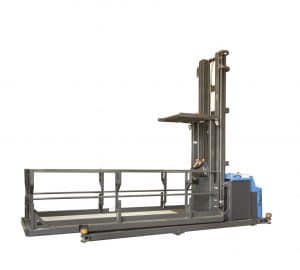 About the Order Picker
The Combi Order Picker platform truck can operate in aisles as narrow as 56.5″. Operators can move through aisles, building small customer orders without pulling entire storage bins. The order picker has very few moving parts, making it less likely to break down.
Easy Street also offers pedestrian stackers that are ideal for very narrow aisle situations.