Chicagoland Supplier of Innovative Forklifts
Chicago is known as the windy city and the third largest city in the united states with a population of 2.7 Million people. Chicago's diverse  economy is mostly based on Industrial and logistics businesses.
Its central location and hub for intermodal operations means material handling requirements are always at the highest levels. This is really focused on maximum use of storage space, safe working environment and maximum efficiencies as any business's edge can sometimes be a matter of penny's.
Easy Street Material Handling equipment is the source for innovative material handling equipment with focus on maximum storage space, safe operations and the most cost effective ways to store and move materials.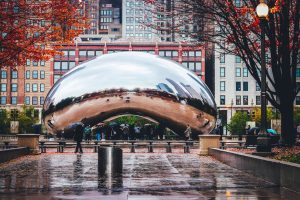 Easy Street JD&S has the best material handling solution to tailor fit any customers specific application, with focus on businesses' including third party logistics, steel service, steel production, Intermodal operations and an endless list of manufacturing applications.
Easy Street JD&S  proudly serves our area as the premier dealer for Combilift, Aisle Master, and mega lift equipment to name a few. Easy Street has a large rental fleet of sideloaders, articulated forklifts and other narrow aisle material handling equipment . We also can rent standard counterbalance forklifts also in our rental fleet.
Forklift Parts and Service in Chicago
At Easy Street JD&S, we have factory trained technicians for Combilift and Aisle – Master equipment with a large parts inventory to ensure quick service response to keep you operation moving. Combilift and Aisle – Master parts can be sold directly at the most competitive pricing anywhere our team of forklift specialists with over 30 years' experience can provide service for almost all makes and models of lift trucks, at the most competitive rates for the end user.
Chicago Forklift Rentals
Easy Street JD&S has a large rental fleet focusing on Narrow aisle equipment including sideloaders, articulated ( VNA ) forklifts, multi- directional forklifts  and equipment as large as Straddle cranes.
This provides the users of application specific forklifts a source of rental machines for surges in business, damaged or downed equipment and a host of other reasons when a rental unit may be required. Check out our forklift rental page for more info!
Choose Easy Street for Your Forklift Needs in Chicago
With emphasis on Safety, Storage and efficiency, Easy Street can streamline your material handling requirements while providing up-time reliability.
Need to consider a new approach to your material handling challenges? Please take time to complete the form on our contact page and one of our application specialists will contact you or call us directly at 630-682-0021.
Get a Free Combilift Forklift Quote Today!
Or call us at 630-682-0021